Public Events -- Illinois Artisans & ISM Chicago Gallery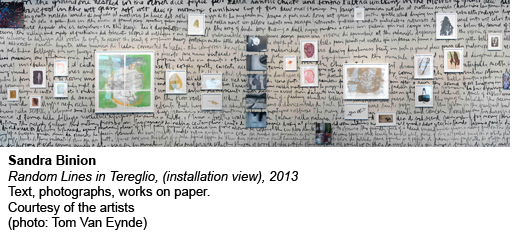 Gallery Performance: Sandra Binion, Random Lines in Tereglio with Lou Mallozzi, Hal Rammel and Andrea Raos
Location: ISM Chicago Gallery, Chicago
Date: Wednesday, March 19, 2014, 12:00 PM - 1:00 PM



Please join us on Wednesday, March 19 at noon for an afternoon poetry and improvised music performance with Sandra Binion, one of the artists in our current exhibition, The Art of Description. Her bilingual poem, Random Lines in Tereglio, will be read in English and Italian by the artist and Andrea Raos; they will be accompanied by sound artists Lou Mallozzi and Hal Rammel. This event is free and open to the public.

CLICK TO PRESS RELEASE FOR MORE INFORMATION

For more events at ISM Chicago Gallery.