origin and exhibition history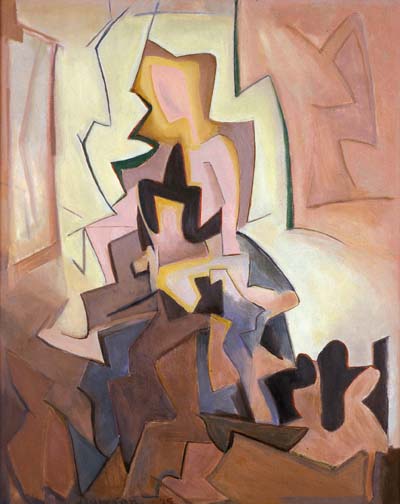 The Illinois State Museum is pleased to present this interactive version of Art in the Abstract for our online audience. This presentation debuted as a physical art exhibit at the museum's Lockport site in late 2004 and included paintings, drawings, and prints selected exclusively from the Illinois State Museum's permanent collection. The show traveled to Chicago in 2005. Its schedule carried it to our Springfield site and then on to the museum's facility in Rend Lake in 2006. Art in the Abstract has been recognized by critics as an exceptional window into another facet of the rich artistic legacy that tells the story of visual culture in our state.
Several factors lent impetus to the creation of Art in the Abstract. As curators who work closely with the public on a daily basis, we recognize that many people are intrigued by abstraction but may have reservations about its validity as a direction in art. In addition, we wished to highlight the museum's fine collection of artwork based in abstraction. We chose to create an exhibition with an emphasis on personal growth, not an aesthetic agenda.
For those with an appetite for investigation, we decided to assemble an introductory section to encourage personal exploration. An informal timeline was assembled which helped to answer the question, — Why abstraction?. The exhibition then proceeded with text and artwork to consider themes designed to make viewers more conversant about what makes up an abstract work:
Artists Respond drew upon quotes from artists of international stature with whom the public might be familiar and provided a brief explanation of their personal commitment to expore abstraction.

Seeing things differently examined three approaches to a timeless theme - a woman's portrait.

Reforming formal elements explained how artists have "dissected" the formal elements of art —such as line, color, and form — and re-defined them in often startling new ways.

Crossing the line addressed a theme that continues to drive artists toward abstraction: the attempt to realize visually that which is essentially non-visual. For example, how do you paint an image of how a saxophone solo makes you feel?
As a complement to the introductory section, the remaining works were organized so that relationships could be established between and among paintings with differing stylistic approaches and hailing from different time periods. This offered the chance for contrast and comparison. In addition, for the engaged viewer, extended labels provided information on biography, bits of historic context, and hints for comparison.
Finally, the "show-within-a-show", — Manierre Dawson: A Startling Presence — was an exhibition that took issue with the idea that the birth and early development of abstraction occurred solely in Europe and then New York. It also presented information about significant developments that took place in Illinois before 1920, particularly in the pioneering work of Manierre Dawson.
The Illinois State Museum owns an important core collection of work by this little-known artist from Illinois. In 1980, the museum was approached by a trio of men from Florida who had assembled a group of paintings by a retired Michigan fruit farmer who had grown up in Chicago. The paintings donated by Dr. Lewis Obi, Frank McKeown, and Lefferts Mabie have since been recognized as representing periods which are essential to appreciating the under-recognized contribution that Manierre Dawson made to the history of abstraction in the United States during the early twentieth century.
Dawson's oeuvre (uvre) can be placed well outside the mainstream of what was being created not only in the Midwest but in the country as a whole. In their examination of formal concerns and presentation of a highly personal point of view, the 250+ paintings that burst forth between 1904 and 1918 demonstrate a vigorous and original hand that was unencumbered by academic training coupled with a level of visual sophistication that stretched far beyond Michigan Avenue in Chicago. Although self-taught by today's standards, Dawson's work stands out as a beacon of Modernism — almost like a brief, but brilliant, flash of innovation — against most of the painting that was occurring in the Midwest at the time. It is with pleasure that the Illinois State Museum presents this overview of the career of this under-recognized pioneer of abstraction to our online public.
While Art in the Abstract was not meant to be an encyclopedic survey of the history of abstraction in Illinois, it does provide an opportunity for the viewer to examine significant examples of painting drawn from a larger body of work in our permanent collection and created by artists who worked during a variety of historic periods and with varying stylistic approaches. With the most recent work dating from the year 2000, it is clear that abstraction continues to be a vital element of the landscape that makes up the Illinois scene.
We hope you will enjoy your visit to our online presentation of Art in the Abstract.
Read a review of the Art in the Abstract Exhibit from the Chicago Tribune (pdf).
Jim L. Zimmer
Site Director and Curator
Illinois State Museum Lockport Gallery
Geoffrey Bates
Associate Curator
Illinois State Museum Lockport Gallery
Exhibition Schedule: Art in the Abstract
Illinois State Museum Lockport Gallery: October 30, 2004 – March 4, 2005
Illinois State Museum Chicago Gallery: August 4, 2005 – February 2006
Illinois State Museum, Springfield: March 12, 2006 – August 6, 2006
Illinois State Museum, Southern Illinois Art Gallery: September 23, 2006 – March 18, 2007