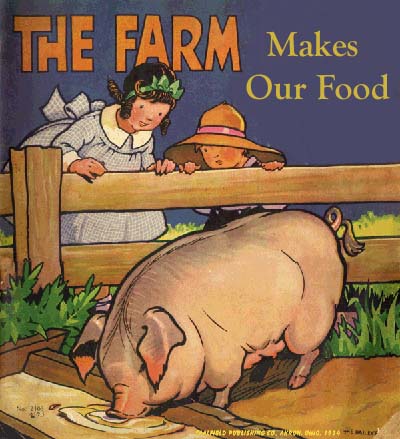 Technology Activities
The History of Illinois Agriculture presents these activities and lesson plans to teachers, students, and anyone interested in exploring the themes and research we covered in the Web site. All ages will enjoy many of these activities.
When Was It Used? (Interactive)
Order the images of the tools in chronological order.
What's It?
Test Your Knowledge of Tools, Plants, and Animals.
How to
Analyze Historical Photographs
How to take an
Oral History
How to Find Other
Primary and Secondary Resources
How to
Research and Analyze Historical Objects
How Did Farm Products Get to Market in the Nineteenth Century?
Analyze transportation maps to explain how four farmers marketed their commodities.
For students of science and math:
Webquest: Illinois Prairie — Changing an Ecosystem
Play the role of a pioneer farmer, a botanist, a zoologist, or an ecologist in this group lesson, use internet sites to research your topics, and create a trophic pyramid and a food web for the prairie ecosystem and for the farm ecosystem on the land when the pioneer farmer begins farming.
Mechanization of Farming:
Analyze and calculate man-hours and costs of farm production in two eras of Illinois farming.
http://www.cla.sc.edu/ANTH/gardening/ancientgardening.htm
University of South Carolina site on
Ancient Gardening
. Great images of plants.
Print Resources for More Information on Agricultural History Topics:

Bial, Raymond (1995). Portrait of a Farm Family. Houghton Mifflin Publishing ISBN: 0395699363. Ages 9-11. Portrays the life of the Steidinger family on the farm.
Brown, Craig McFarland (1995). Tractor, vol. 1. Harper Collins Publishing ISBN: 0688104991. Ages 5-8. Tells about the various steps in farming
Peck, Richard (2000). Long Way from Chicago. Puffin books. ISBN: 0141303522. Young Adult. In 1929 Chicago kids go to spend time on a small Illinois farm.
Bibliography
Ankli, Robert E. Gross Farm Revenue in Pre-Civil War Illinois. Arno Press.
Birkbeck, Morris and Flower, George (1968). History of the English Settlement in Edwards County Illinois, founded in 1817 and 1818, by Morris Birkbeck and George Flower. University Microfilms, Ann Arbor.
Bogue, Allan G. (1994). From Prairie to Corn Belt: Farming on the Illinois and Iowa Prairies in the nineteenth century. Iowa State University Press.
Buck, Solon J. (1967). Illinois in 1818. University of Illinois Press, Urbana.
Calkins, Earnest E. (1937, reprint, 1989). They Broke the Prairie: Being some account of the settlement of the upper Mississippi valley by religious and education pioneers, told in terms of Galesburg. University of Illinois Press.
Clemens, Terri (1994). American Family Farm Antiques. Wallace-Homestead Book Company.
Cobbett, William (1828). A Year's Residence in the United States of America, part 3. Published by the author in London. Online at http://memory.loc.gov/cgi-bin/query/S?ammem/lhbtnbib:@field(TITLE+@od1(A+year's+residence,+in+the+United+States+of+America+)) Library of Congress, American memory Project, Travels in America. (10/30/03)
Cronin, William (1991). Nature's Metropolis: Chicago and the Great West. W.W. Norton & Co.
Davidson, J. Brownlee, and Chase, Leon Wilson (1999, rev. ed. 1908). Farm Machinery: Practical Hints for Handy-men. The Lyons Press.
Faragher, John Mack (1986). Sugar Creek: Life on the Illinois Prairie. Yale University Press.
Partridge, Michael (1973) Farm Tools. New York Graphic Society.
Thompson, John (2002). Wetlands Drainage, River Modification, and Sectoral Conflict in the Lower Illinois Valley, 1890-1930. Southern Illinois University Press.
Walters, William (1997). The Heart of the Cornbelt: an illustrated history of corn farming in McLean County. McLean County Historical Society.
Wendel, C.H. (1997) Encyclopedia of American Farm Implements & Antiques. Krause Publications.