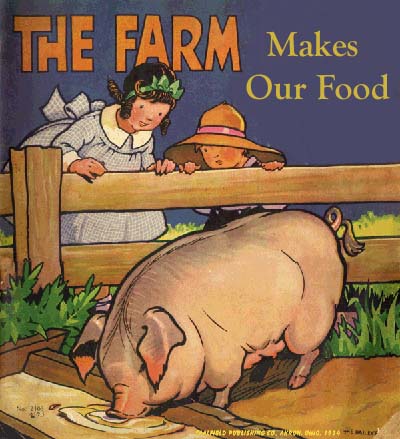 Plants Activities
The History of Illinois Agriculture presents these activities and lesson plans to teachers, students, and anyone interested in exploring the themes and research we covered in the Web site. All ages will enjoy many of these activities.
Farms Make Our Food Unit: Types of Plants We Eat
Parts of Plants We Eat (picture version)
Is It a Fruit or a Vegetable? Test Your Knowledge of Tools, Plants, and Animals.
For the student of genealogical and historical research:
Farm Family History Research Unit:
How to Analyze Historical Photographs
How to take an Oral History

How Did Farm Products Get to Market in the Nineteenth Century?
Analyze transportation maps to explain how four farmers marketed their commodities.
For students of science and math:
Webquest: Illinois Prairie — Changing an Ecosystem
Play the role of a pioneer farmer, a botanist, a zoologist, or an ecologist in this group lesson, use internet sites to research your topics, and create a trophic pyramid and a food web for the prairie ecosystem and for the farm ecosystem on the land when the pioneer farmer begins farming.
Mechanization of Farming:
Analyze and calculate man-hours and costs of farm production in two eras of Illinois farming.
Read an article on New Philadelphia, the first African-American Illinois settlement.
Resources on Agriculture
Reading List for Students in pdf format.
http://www.cla.sc.edu/ANTH/gardening/ancientgardening.htm
University of South Carolina site on
Ancient Gardening
. Great images of plants.
Print Resources for More Information on Agricultural History Topics:
Farm-themed Books for Children and Young Adults
Aliki (1996). Corn is Maize: The Gift of the Indians. Harper Collins Children's Books. ISBN: 0064450260. Ages 5-9. Tells the cultural importance of corn in Native American cultures.
Artley, Bob (2000). Once Upon a Farm. Pelican Publishing Company, Inc. ISBN: 1565547535. Young Adult. Nostalgic story of farm life by a retired farmer based on his memories of growing up and farming
Bial, Raymond (1991). Corn Belt Harvest. Houghton Mifflin Publishing ISBN: 0395562341. For all levels. Photographs and easy but meaningful text
Gabbert, Lisa (2003). Midwestern Corn Festival: Ears Everywhere. Rosen Publishing Group, Inc. ISBN: 0823053416. Ages 5-9
Hall, Margaret (2003), El Maíz. Heinemann Library. ISBN: 1403437351. Ages 4-6, in Spanish
Walters, William (1997). The Heart of the Cornbelt: an illustrated history of corn farming in McLean County. McLean County Historical Society.
Wendel, C.H. (1997) Encyclopedia of American Farm Implements & Antiques. Krause Publications.
Woods, John (Paul L. Angle, Ed.) (1968). Two Years' Residence on the English Prairie of Illinois. R.R. Donnelley & Sons Company, Chicago. Portions are also online at the Library of Congress' American Memory Project – Travels in America.