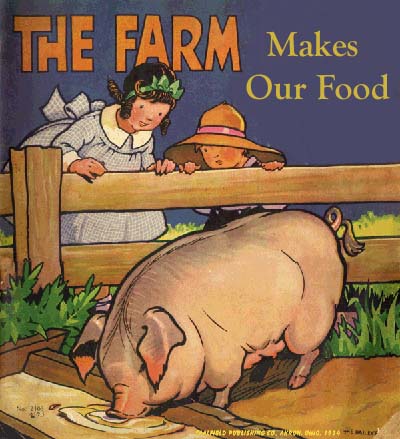 Land Activities
The History of Illinois Agriculture presents these activities and lesson plans to teachers, students, and anyone interested in exploring the themes and research we covered in the Web site. All ages will enjoy many of these activities.
Farms Make Our Food Unit: Types of Plants We Eat
Parts of Plants We Eat (picture version)
Is It a Fruit or a Vegetable?
For the student of genealogical and historical research:
Farm Family History Research Unit:
How to Analyze Historical Photographs
How to take an Oral History
How to Search Public Land Sales Records
How to Search and Read County Plat Maps
How to Find Other Primary and Secondary Resources

Read and discuss Willam Cullen Bryant's poem of the prairie.
For students of science and math:
Webquest: Illinois Prairie — Changing an Ecosystem
Play the role of a pioneer farmer, a botanist, a zoologist, or an ecologist in this group lesson, use internet sites to research your topics, and create a trophic pyramid and a food web for the prairie ecosystem and for the farm ecosystem on the land when the pioneer farmer begins farming.
Resources on Agriculture
Reading List for Students in pdf format.
http://www.cla.sc.edu/ANTH/gardening/ancientgardening.htm
University of South Carolina site on
Ancient Gardening
. Great images of plants.
Print Resources for More Information on Agricultural History Topics:
Farm-themed Books for Children and Young Adults
Aliki (1996). Corn is Maize: The Gift of the Indians. Harper Collins Children's Books. ISBN: 0064450260. Ages 5-9. Tells the cultural importance of corn in Native American cultures.
Artley, Bob (2000). Once Upon a Farm. Pelican Publishing Company, Inc. ISBN: 1565547535. Young Adult. Nostalgic story of farm life by a retired farmer based on his memories of growing up and farming
Brown, Craig McFarland (1995). Tractor, vol. 1. Harper Collins Publishing ISBN: 0688104991. Ages 5-8. Tells about the various steps in farming
Gabbert, Lisa (2003). Midwestern Corn Festival: Ears Everywhere. Rosen Publishing Group, Inc. ISBN: 0823053416. Ages 5-9
Hall, Margaret (2003), El Maíz. Heinemann Library. ISBN: 1403437351. Ages 4-6, in Spanish
Hunt, Irene (1981 reissue). Across Five Aprils. Berkeley. ISBN: 0425102416. Young adult. A boy is left to run an Illinois farm during the Civil War.
Peck, Richard (2000). Long Way from Chicago. Puffin books. ISBN: 0141303522. Young Adult. In 1929 Chicago kids go to spend time on a small Illinois farm.
Bibliography
Birkbeck, Morris and Flower, George (1968). History of the English Settlement in Edwards County Illinois, founded in 1817 and 1818, by Morris Birkbeck and George Flower. University Microfilms, Ann Arbor.
Bogue, Allan G. (1994). From Prairie to Corn Belt: Farming on the Illinois and Iowa Prairies in the nineteenth century. Iowa State University Press.
Calkins, Earnest E. (1937, reprint, 1989). They Broke the Prairie: Being some account of the settlement of the upper Mississippi valley by religious and education pioneers, told in terms of Galesburg. University of Illinois Press.
Library of Congress, American memory Project, Travels in America. (10/30/03)
Cronin, William (1991). Nature's Metropolis: Chicago and the Great West. W.W. Norton & Co.
Davis, James E. (2000). Frontier Illinois. Indiana University Press.
Faragher, John Mack (1986). Sugar Creek: Life on the Illinois Prairie. Yale University Press.
Killey, Myrna M. (1998). Illinois' Ice Age Legacy. Illinois State Geological Survey.
Meyer, Douglas K. (2000). Making the Heartland Quilt: A Geographical History of Settlement and Migration in Early-Nineteenth-Century Illinois. Southern IllinoisUniversity Press, Carbondale.
Pooley, William V. (1968). Settlement of Illinois, 1830-1850. University Microfilms, Ann Arbor.
Sutton, Robert P., (Ed) (1976). The Prairie State: A Documentary History of Illinois (Colonial Years to 1860). William B. Eerdmans Publishing Co.
Thompson, John (2002). Wetlands Drainage, River Modification, and Sectoral Conflict in the Lower Illinois Valley, 1890-1930. Southern Illinois University Press.