Public Events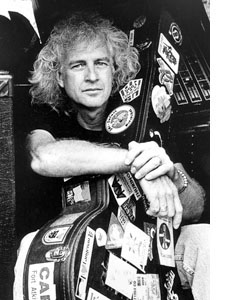 Hickory Ridge Concert Series: Woody Guthrie Songs
Location: ISM Dickson Mounds Museum, Lewistown
Date: Saturday, October 19, 2013, 7:30 PM - 9:30 PM



Songwriter and guitarist Bucky Halker will return to the Hickory Ridge Concert Series to perform the songs of Woody Guthrie and the dust bowl era as well as a selection of his original songs this Saturday, October the 19th at 7:30 pm. A longtime favorite at Hickory Ridge, Halker has been called "The living heir of Woody Guthrie". He performs Woody's music with a rare passion as well as a deep understanding of the dustbowl era.

Bucky Halker was born in 1954 and grew up in Ashland, Wisconsin, a declining blue-collar, iron ore, lumber town on Lake Superior with fish fry Fridays, country music, Swedes, polkas, Finns, Indian reservations, Poles, 12-foot fishin' boats, girls with transistor radios, and 40 bars on Main street. At 13 Bucky plugged in his guitar and was giggin' at teen rock dances. At 16 he discovered Woody Guthrie, blues piano, songwriting, and solo gigs. Halker's original songs draw extensively on his experiences on the road, his Midwest populist roots, and his strong interest in American history. He is a recognized master of the music of Woody Guthrie while elements of country, folk, blues, and rock all make their way into his original songs, drawing comparisons to Steve Earle and John Mellencamp. Hickory Ridge host, Chris Vallillo frequently performs with Bucky and will be joining him onstage for several numbers.

The Dickson Mounds Branch of the Illinois State Museum is located between Lewistown and Havana off routes 78 and 97. The museum is open free to the public from 8:30 a.m. to 5:00 p.m. every day. Tours and special programs are available for groups with reservations. For more information call 309/547-3721 or TDD 217/782-9175 or visit the museum=s web site at http://www.experienceemiquon.com

One of our Hickory Ridge Concert Series

For more events at ISM Dickson Mounds Museum.