Public Events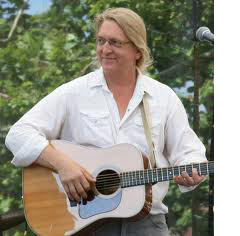 Hickory Ridge Concert Series: Tom Irwin Returns to Hickory Ridge
Location: ISM Dickson Mounds Museum, Lewistown
Date: Saturday, September 21, 2013, 7:30 PM - 9:30 PM

Springfield, IL singer songwriter Tom Irwin returns to the Hickory Ridge Concert Series at 7:30 p.m., Saturday, September 21, 2013 for an evening of intimate songs from his latest release, Sangamon Songs. The songs were created from an 1893 diary written by Harry Glen Ludlam, a teenager who lived on the Irwin farm in Sangamon County just outside Springfield, Illinois, from 1880 to 1894.

Irwin discovered the notebooks tucked away in a pie-tin cabinet in the family farm home in 2006 and began composing songs as a master's project for graduate studies at University of Illinois Springfield in 2008.

Each song is based on a actual entry from the diary, be it an exciting visit to Chicago's 1893 Columbian Exposition in Hurrah for the World's Fair, the death of a schoolteacher in Nellie Manchester presented as a waltz with twin mandolins, a ragtime-like ode to lazy days in Doing Nothing, a look at time's passing driven by a strings and flute section during Moonlight Now or Corn to Shuck, a Roger Miller-esque romp about the glories of shucking corn.

One of our Hickory Ridge Concert Series

The Hickory Ridge Concert Series is supported in part by a grant from the Two River's Arts Council, the Illinois Arts Council, a state agency, and the National Endowment for the Arts.

The Hickory Ridge Concert Series is hosted by singer-songwriter Chris Vallillo. Concerts are held the 3rd Saturday of every month at Dickson Mounds Museum and begin at 7:00 p.m. with the museum lobby opening at 6:00 p.m. Coffee, drinks, and a variety of desserts are available during intermission. There is an admission charge of $8.00 per adult and $5.00 for children under 12. Sitting is limited to the first 150 people. You can also visit the concert series web site at http://ginridge.com/hickory-ridge-concert-series/

For more events at ISM Dickson Mounds Museum.