Public Events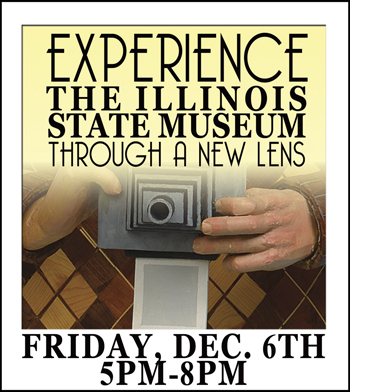 Downtown Springfield First Friday Events
Location: Illinois State Museum, Springfield, Springfield
Date: Friday, December 06, 2013, 5:00 PM - 8:00 PM



The ISM-Springfield is pleased to participate in Downtown Springfield's First Friday events on Dec. 6th. Museum hours extended until 8:00PM. Plenty of free parking!

WHEN:

Dec. 6th, 2013
5PM-8PM

WHERE:
Illinois State Museum
502 S Spring St.
Springfield, IL 62706


Experience the Illinois State Museum through a new lens.

Be the photographer and be photographed during the Illinois State Museum's evening of art, music and shopping. At 5:05PM grab a drink and wander the museum for a photo hunt challenge. Shop a jewelry trunk show in the Museum Store and peek inside Michael Ferris, Jr. sculpture Rusty Finnegan's camera. At 6PM have your Polaroid taken and then relax in our Oak Tree Cafe to listen to the Brad Floreth Jazz Quartet at 6:30PM.

Photographers Welcome Dubbed today's modern Polaroid, use Instagram on your phone to discover the Illinois State Museum with a photo hunt challenge. Post your photo using #ILStateMuseum (Twitter or Instagram). You could find your photo in the cover photo collage on Facebook.com/IllinoisStateMuseum Monday morning Dec. 9th!

Jewelry Trunk Show As you wander the museum, visit the Museum Store from 4-8PM for an Illinois Artisan demonstration and find one-of-a-kind gifts at a special trunk show by jeweler Beverly Brekke-Bailey. If you are a member, take advantage of the member appreciation double discount (20% off) in the Museum Store. If not, join at the event!

Jump inside Rusty's Camera Join us for an out of production, all too rare genuine Polaroid photo booth experience starting at 6PM. Have your Polaroid taken by photographer Jennifer Davis with her vintage 70's Graflex View Camera before it's too late! First 15 patrons (after 5PM) wearing their favorite argyle sweater (or socks) receive their Polaroid for free!

Jazz it up under the Oak Tree! At 6:30PM after you've explored the Museum, grab a cocktail and a seat in our Oak Tree Cafe. Listen to the Brad Floreth Jazz Quartet play a selection of jazz music. The quartet includes: Brad Floreth on guitar, Curtis Atchley on piano, Bryan Leonard on bass, and Andy Hanson on drums.

Guests may also wish to take advantage of the late hours to investigate the museum's many exhibits, and to visit the recently opened "Figurism," now on display in the second floor galleries. The exhibition runs from September 28 through March 2, 2014.

For more events at Illinois State Museum, Springfield.