Public Events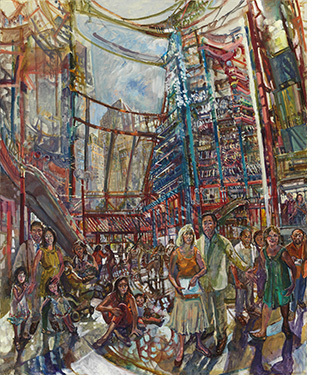 ISM Chicago Gallery Special Exhibition - Audrey Ushenko: An Artist at Work
Location: ISM Chicago Gallery, Chicago
Date: Monday, July 22, 2013 through Friday, July 26, 2013 , 9:00 AM - 5:00 PM



Chicago artist, Audrey Ushenko, will be demonstrating her painting techniques in the James R. Thompson Building Atrium. Audrey Ushenko will be sketching and painting in the building and documenting the people who go through the building each day. People who work in the building follow the project and watch it evolve.

During this week long interactive project, she will engage the public in the creative process with her painting and public discussion. Some people have told that they see the painting as a celebration of their own lives. Some people say that it makes them feel good to see the building so beautiful.

Audrey wanted to paint in the JRTC because it's exactly the sort of complex, prismatic environment that fascinates her. The interior of the Thompson Center has such great height and richness of detail with such a human spectrum that seems like a microcosm of the city. Painting in the building has opened up possibilities for a more dynamic space for her. It has brought together a greater variety of people than ever before.

Ushenko is currently represented by Denise Bibro Gallery, New York City.

For more events at ISM Chicago Gallery.