Public Events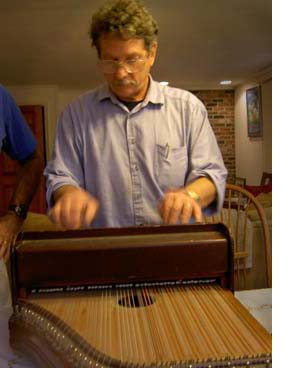 Hickory Ridge Concert Series: Winter Blues at Dickson Mounds
Location: ISM Dickson Mounds Museum, Lewistown
Date: Saturday, February 16, 2013, 7:30 PM - 9:30 PM

The house will be jumpin when master fingerstyle blues guitarist Andy Cohen performs for the Hickory Ridge Concert Series Saturday, February 16, 2013 at 7:30 pm at the Dickson Mounds Museum. Andy's shows are an encyclopedia of the blues including material by Rev. Davis, Mississippi John Hurt, Big Bill Broonzey, Gus Cannon, Frank Stokes, Memphis Minnie, Bukka White, Barbecue Bob, Charlie Patton, Ted Bogan, Henry Spaulding, or any of a hundred other blues people.

Andy Cohen grew up in a house with a piano and a lot of Dixieland Jazz records. At about fifteen, he got bitten by the Folk Music bug, and at sixteen, when he saw Rev. Gary Davis, his course was set. Over the years he's studied, performed and promoted the music of the southeast quadrant, America¹s great musical fountainhead.

Along the way he's hung out and performed with many of the greats of acoustic blues; Phil Wiggins, John Cephas, Honeyboy Edwards, Mad Dog Lester, Elizabeth Cotten and Etta Baker just to name a few. Along with a mastery of acoustic blues guitar, Andy also performs on a rare 1905 zither instrument called the Dolceola.

One of our Hickory Ridge Concert Series

For more events at ISM Dickson Mounds Museum.