Public Events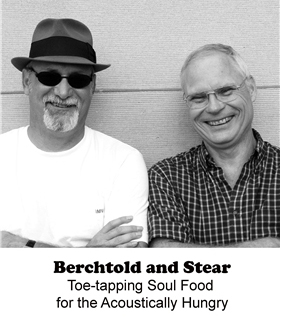 Hickory Ridge Concert Series: Guitar/Harmonica Duo
Location: ISM Dickson Mounds Museum, Lewistown
Date: Saturday, December 15, 2012, 7:30 PM - 9:30 PM

Berchtold and Stear take the stage Saturday night, December 15, 2012, at the Hickory Ridge Concert Series at 7:30 pm in the auditorium of the Dickson Mounds Museum. Known for "toe-tapping soul food for the acoustically hungry", David Berchtold and Brian Stear have been keeping their fans well-fed with acoustic fingerstyle guitar and harmonica deeply influenced by Piedmont Blues and the folk and rock sound of the early 70's.

A native of central Illinois, David has been playing acoustic guitar for over 30 years. His playing has been influenced by a wide variety of artists including Chet Atkins, Doc Watson, Gregg Allman, Leo Kottke, John Fahey, Rev. Gary Davis, and Jorma Kaukonen. He studied under Jorma Kaukonen (Jefferson Airplane, Hot Tuna) and, over three decades, has developed his own signature style of finger-picking. Brian has played harmonica with hundreds of great musicians, from local regulars to Grammy award winners like Koko Taylor. He has the unique ability to bring exactly what's needed to the table and blend into the song, creating a canvas of sound.

Berchtold and Stear will continue their mission to bring their brand of folk-rock, country blues, and tasty originals to the stage with songs from their latest release Ghosts of Music Past.

One of our Hickory Ridge Concert Series

For more events at ISM Dickson Mounds Museum.