Public Events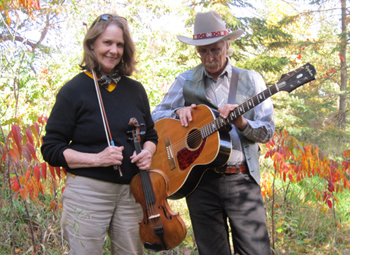 Hickory Ridge Concert Series: Bovee and Heil Bring Old Time Country to Hickory Ridge
Location: ISM Dickson Mounds Museum, Lewistown
Date: Saturday, November 17, 2012, 7:30 PM - 9:30 PM

Perennial favorites Bob Bovee and Gail Heil will bring their wide repertoire of Old Time Country Music to the Hickory Ridge Coffeehouse on Saturday night, November 17, 2012 at 7:30 p.m. Performing on guitar, banjo, harmonica and fiddle, this Award winning duo combines square dance tunes, cowboy songs, blues, ragtime, novelty numbers, and yodels into an engaging evening of old time fun!

Bob Bovee has been called one of the greatest cowboy singers alive while Gail Heil is considered one of the best fiddlers in the country. Since 1980 Bob and Gail have traveled the country together taking old time music to audiences of all ages at festivals, fairs, concerts, dances, schools, libraries, music camps, radio and TV programs. This is rural music as played in homes, at dances and for earlier entertainments such as minstrel shows and country radio. Originally from Nebraska, Bob Bovee has been performing since 1970. Gail Heil was born in St. Louis and has been playing since 1976, but the couple makes their home in Southeastern Minnesota. They are as much musical historians as performers, presenting the early development of country music from the 1850s to the 1940s in a lively toe-tapping show.

One of our Hickory Ridge Concert Series

For more events at ISM Dickson Mounds Museum.