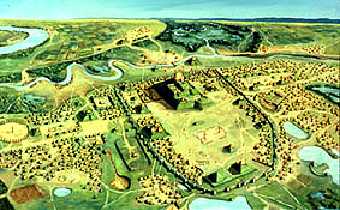 Some facilities at Cahokia - mounds, palisade, borrow pits, woodhenges,
temples, and residences.
For archaeologists, facilities refer to more than lodging or toilet structures. Facilities are any non-portable constructions used by humans. Mississippian facilities include wall-trench houses, fire pits, storage pits, cache pits, garbage pits, granaries, sweatlodges, palisades, temple mounds, house mounds, burial mounds, and burial pits, to name just a few.