Although a number of plants were cultivated thousands of years earlier during the Archaic Period in Illinois (notably marsh elder, goosefoot, squash, bottle gourd, and sunflower (HDYK-ECON), an expansion of intensive plant utilization occurred during the Woodland Period when people began to concentrate on floodplain resources.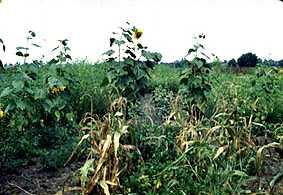 Garden with Sunflower and Corn.
The result of this heavier reliance on floodplain plants producing starchy and oily seeds was an increase in the rate of cultivation. Additional plants cultivated by the Middle Woodland Period include knotweed, maygrass, little barley, and tobacco. By A.D. 850 (Emergent Mississippian), an economy based on crop cultivation and intensive use of wild plant and animals foods was apperently able to produce a significant and reliable food surplus.