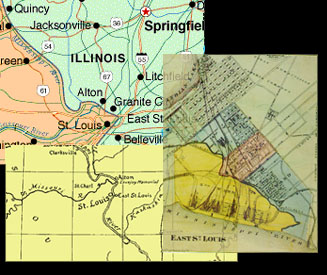 America's Nineteenth Century Crossroads
Welcome to the University of Illinois Department of History's prototype component of the American Bottom Landing Site. This collection of narrative historical interpretations and archives features East St. Louis's primary role as a transportation center for America's westward growth. Here you will find details of the city's foundation and development through the nineteenth century.
Read the historical narratives to learn the basics about East St. Louis and its role in transportation or study our collection of images and documents from the past. Much of this material is otherwise available only by traveling to the American Bottom. Literature, diaries, newspaper accounts, private and public records, maps, and pictures represent some of the many different formats in the archives.
You may refer to our Branching Out features to discover more about these interpretations and then employ our HTML sequencer, the Page Grabber, to organize materials for your own interpretation. Information throughout the historical narratives is hyperlinked to specific archives and to other related topics. Links to items of particular interest are in the Branching Out sections of the historical narratives. You may navigate throughout this component using the pop-down or text menu, the site map, or the Back and Forward buttons on your web browser.
This material was designed and implemented under the direction of Professor Vernon Burton through a grant form the National Endowment for the Humanities. The Project Coordinator is David Herr. Mike Sherfy is the primary researcher. Ian Binnington is the editor. Research, writing, and information compilation was completed by Ian Binnington, David Herr, Todd Larson, and Mike Sherfy. Go here to see site credits.
America's Nineteenth Century Crossroads Navigation Choices:
Historical Narratives:

Economy:

Environment:

Society:

Technology: