The Nickel Plate Road
While many railroad companies had tracks in East St. Louis, it is useful to look briefly at one of them, the Nickel Plate Road, and learn more about how it functioned and participated in a transportation system that not only transformed East St. Louis, but the entire country.


The Nickel Plate is not the most typical line to consider, but its unique qualities tell us about the complex nature of the railroad business. The Nickel Plate Road was built late in the railroad boom and ran through an already well-developed region. There are many fans of the Nickel Plate today. Go here for two examples:

John Fryar's Nickel Plate Road and The Nickel Plate Road Historical & Technical Society (These links lead to sites not in RiverWeb.)


Unlike previous lines, the Nickel Plate did not bring the growth of new towns along its tracks, did not rely on government assistance for its construction, and did not originate most of its traffic. The railroad survived by offering the transfer of freight in a consistent and efficient manner. The Nickel Plate lacked double tracks like many of the earlier lines and it had to count on attracting excess business from other lines. This also meant that most freight it transferred would run along a west-east route, from St. Louis to Buffalo, New York, instead of an east-west direction.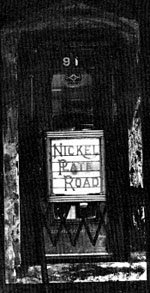 The back door of Nickel Plate Car No.91
The Clover Leaf, the successor of the largest narrow gauge track east of the Mississippi, provided the Nickel Plate with railheads to St. Louis. Following a little of the Nickel Plate's early history illuminates one rail system that participated in East St. Louis' reliance on the railroads.
Branching Out...
To learn more about railroads and rail facilities, go to the RiverWeb Archives and view excerpts from J.L. Ringwalt's 1888 book, The Development of Transportation Systems in the United States.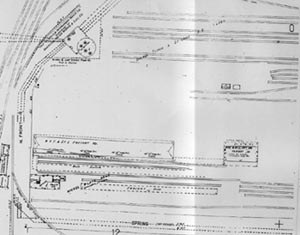 The Nickel Plate Property in East St. Louis
1930s Sanborn Fire Insurance Map
| | |
| --- | --- |
| A Closer look at the Nickel Plate Property | A photograph of the former Nickel Plate Offices in East St. Louis from the 1980s |