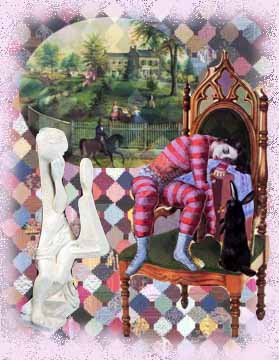 The fine art and decorative art collections of the Illinois State Museum contain objects representative of the arts made and used in Illinois. Explore these online galleries of paintings, photographs, sculptures, pottery, quilts, furniture and folk art made by Illinois artists or used by Illinoisans between A.D. 1800 and the present.
The Web module for Art is organized into seven units, listed in the menu in the upper left corner of the screen. As you enter each unit, an outline menu unfolds.
Some of the features of the Museumlink Art module are:
images of artworks form the Art collection and objects from the Decorative Arts collection
information about the lives of the artists, owners, and users of these objects
stories about the objects, the owners, and the museum work involved in the collection
a popup glossary for younger viewers and for those unaccustomed to the vocabulary of Art.
interdisciplinary activities under Resources and Activities invite you to make or talk about art
a children's and adult's reading list of books and Web sites offers opportunities for further investigation of topics.
Teacher orientation (html) for Art module.