Group Programs
Dickson Mounds Museum's exhibits are designed to be self-guided, but special tours and programs are available for many kinds of groups -- from toddlers to seniors -- that total over 15 individuals.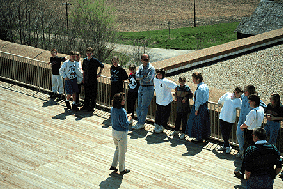 A Special Place for Learning
Tours. An hour-long guided tour of the museum exhibits is available to groups that make reservations. Tours include two audio visual presentations, interpretation of museum artifacts, and a view of the Illinois River Valley from the museum's observation deck (weather permitting).
Pre-K Through Third Grade.
Groups with children aged 4 to 8 may schedule a half-hour tour of the exhibits followed by a half-hour of structured play in the
Discovery Center.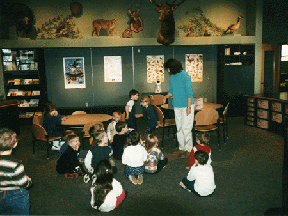 Themed Discovery Programs
Seasonal programs focus on four specific topics. These programs are designed to enhance student visits to the museum by involving them in object based, sensory learning activities that help teachers reach curriculum goals. All programs and activities are adapted to the individual learning levels of participants, and incorporate State Goals for Learning.
Teachers booking Themed Discovery Programs are mailed a Pre-Visit Kit to be used in the classroom to enhance learning before the museum visit. The kit includes a video on the topic, activities, and a bibliography of books and videos. Kits are to be returned to the museum on the day of the school visit.
Following the tour, museum staff present an hour-long program that involves students in a number of hands-on experiences.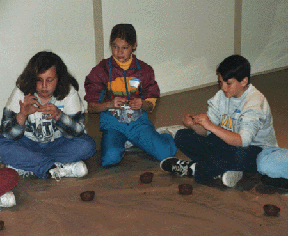 Discovery Programs
The Spirit of the Animals. American Indians believed that all things are related and contribute to one's survival. Animals were an important source of food, clothing, and tools, but they were much more. This program explores the relationship between animals and humans -- the animals that were hunted, the tools and methods of hunting, and the ways that Indians honored the spirit of the animals in rituals. Students listen to an animal legend, participate in a game, examine animal pelts and tracks, and make hunting and hide-sewing tools. (Program is recommended for grades 4-12.)
FALL (September 1 - November 30)
WINTER (December 1 - February 28)
SUMMER (June 1 - August 31)
In Search of the Past. Much is revealed about people when we take time to examine their garbage! Even an empty soft drink container can say volumes about our culture. In this class students learn about the interdisciplinary teamwork of archaeologists and other scientists who work together to gain knowledge about people of the past.
Working in study "teams" students examine and identify collections of pottery, animal bones, and stone artifacts, then visualize how these items reflect the lifestyle and habits of a prehistoric culture living in a wetland environment. (Program is recommended for grades 4-12.)
YEAR ROUND
Pottery - From Trash to Treasure. Broken pieces of pottery are the archaeologist's most important evidence for identifying and dating the cultures associated with the sites they discover. Students learn what pottery reveals about people's diets, settlement patterns, relationships, trade, and belief systems. Students experiment with pottery-making. (Program is recommended for grades 1-12.)
YEAR ROUND
Life From the Earth. The earth has always been at the heart of American Indian culture. All living things have a reciprocal relationship with the environment. This program explores the many ways in which Indians used the rich resources of their world, as well as the legends and rituals that honor earth's gifts. Activities include telling stories, playing games, and creating a pouch. (Program is recommended for grades 4-12.)
SPRING (March 1 - May 31)
SUMMER (June 1 - August 31)
WINTER (December 1 - February 28)
Planning a Group Program
Reservations are required for all groups. Reserve early to get the date you want.
Minimum group size is 15 students, maximum is 30. Groups of more than 30 students will be divided into two separate workshop groups.
Each group must be accompanied by at least one teacher. One adult per 10 children is recommended.
A donation of 50 cents per child is suggested to cover materials costs.
The museum is handicapped accessible.
A picnic area is available for eating sack lunches.
Reservations are required for eating lunch indoors.
The Museum's gift shop and snack bar are available.
To schedule a group tour or program, call the museum at 309-547-3721.

Themed Discovery P