The Public Domain Lands in Illinois, 1813-1870.
Poster presented at the:
ESRI users conference, Redlands California, May 1994;

1995 Midwest/Great Lakes ARC/INFO User Conference, Champaign, Illinois, September 27-19, 1995.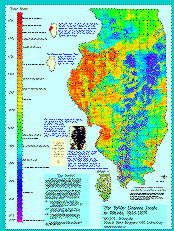 The Project
The Illinois State Museum has made several efforts in integrating 19th-century documents and ARC/INFO. One of these has focused on Illinois land records produced at federal land offices and computerized by the Illinois State Archives. By relating the legal location recorded in the land office documents with information digitized from modern topographic maps it is possible to produce various maps reflecting, for example, earliest or last date of entry per section, or average date per section.

Since the pattern of land entries reflects the spatial pattern of frontier development and settlement, this application of the data allows a view of the history of Illinois never before possible. However, the specific patterns in a particular area (and at a particular time) are the results of an interplay of social, ecological, economic, and legal dimensions. Although the subject is a bit large for this poster, there are several basic themes visible here.
At every time from 1813 to the 1870s settlers did their best to avoid prairie, or at least settle on land as close to timber as possible. You can see this tendency by comparing the distribution of timber shown in the small insert with the distribution of land entries.
The large area of apparently early settlement in the western part of the state is an area called the Military Tract. See the text box at the top of the Time Scale.
The areas of checkerboard patterns reflect grants given by the Federal government to the Illinois and Michigan Canal Company in the 1820s, and to the Illinois Central Railroad in the 1850s.
We are continuing to improve on this data set, and have completed some modeling efforts based on selective overlays of the land record data on other spatial variables.

The Public Domain land records for Illinois, are online at the the Illinois State Archives.

SCHROEDER, Erich K., GIS Lab, Illinois State Museum-RCC, 1011 East Ash St., Springfield, IL 62703; erich@museum.state.il.us
---
eks, October 19, 1994
© Illinois State Museum -- Last updat ed 14-Nov-00 by Erich Schroeder