Using Our Collections
Mr. Richard Ferguson is one of the many people who use our collections for study purposes. Mr. Ferguson is an artist who specializes in painting wildlife and their habitats. If you live in Illinois, you may have seen his work on the 1997-1998 Illinois Trout and Salmon stamps.
Last year, Mr. Ferguson was hired to illustrate a book about Missouri birds and their habitats. In order to create his paintings, Mr. Ferguson needs to know how the birds look. Mr. Ferguson goes into the field to take photographs of the birds and their surroundings. He uses the photographs as the basis for his drawings and the final paintings for the bird guide.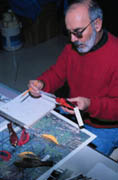 For this type of book, it is very important to make sure that the details of the birds' anatomy are accurate. This is where the Illinois State Museum's zoology collections are helpful. When making his drawings from the photographs taken in the field, Mr. Ferguson noticed that it is sometimes hard to judge the true length and proportions of some of the bird's features, especially the beak and feet. He mentioned this problem to one of his friends, who used to work at the Museum. His friend suggested that Mr. Ferguson contact the Museum's ornithologist to find out if he could examine some of the birds in the collection to get the proper measurements. The ornithologist was happy to help and set up an appointment for Mr. Ferguson to come in and study the collections. Mr. Ferguson now visits the Museum's collection regularly when he needs to check on details. As a neighboring state, Illinois has many of the same bird species as Missouri. The Illinois State Museum's bird collection includes excellent examples of these species and has been very important to Mr. Ferguson's work.