Sadorus, Illinois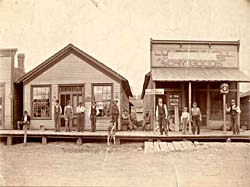 Sadorus, Illinois, is located in Champaign County about twelve miles south of the city of Champaign. It has a current population of about 1,000. Farming is still a major industry in the area.

The Founders
In 1824 Henry and Mary Sadorus, the first permanent European settlers in Champaign County, arrived in Illinois by covered wagon. They homesteaded by building a one-room, half-faced cabin in a grove near the Kaskaskia River. During the summer they grew corn and other vegetables, hunted game, and built a second cabin. Henry entered the homestead and an adjoining 80-acre tract of land in the newly established Sadorus Township land survey in 1834.

Henry built a tavern for the many travelers and cattle drovers who came through the area. He also raised hogs and planted an apple orchard. His wife and daughters kept the inn. After several successful years in business, he had a bigger house built of walnut and brick.

Mary died in 1846, and in 1853 Henry remarried. After his retirement, he deeded his 1,000 acres to his children, who paid him an annuity.

William Henry Sadorus, Henry's eldest son, owned land on the O'kaw River for almost 50 years. In 1837, he platted out the town of Sadorus, deeding the Great Western Railway a right-of-way, and donating lots for a jail, school, and churches. He married Mary Ann Moore, the first of three wives he would have. He was a father of six, a successful farmer and briefly owned a small store.

The Town, 1890s - 1915
Frank Sadorus, Henry's great grandson, took some photographs of downtown Sadorus, Illinois. The plat map for 1893 shows the Wabash train depot, grain elevators, a store, and three churches. By 1913 it had grown to include a general merchandise store, a lumberyard, a hardware store, a furniture store, and a funeral parlor.