Cahokia, Illinois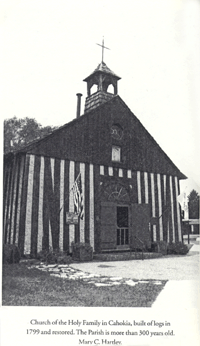 Cahokia (which means "Wild Geese") was inhabited by the Cahokia and Tamaroa Indians. In 1698, building began on a French outpost of missionaries. Their goal was to convert the nearby Native Americans to Catholicism. In 1735, Cahokia was home to twelve Canadian males, but it grew rapidly to become an important Indian trade center.
French dominance of the area ended with the British defeat of France in the French and Indian War in 1763. Many French Cahokians moved across the Mississippi River to found St. Louis. In 1778, Cahokia became part of the Northwest Territory of the United States with a peaceful military occupation. In 1787, the town became the county seat of St. Clair County, with a courthouse that held the U.S. Territorial court. It remained so until 1814, when the size of the county was decreased and the county seat was moved to Belleville.
The town was described in 1800 as having "50 houses, 300 inhabitants, 80 negroes, and large stocks of black cattle, swine, etc." (Hutchins). Cahokia was the first Illinois town on the U.S. postal route in 1805. The route followed the old Indian trail between Cahokia and Vincennes. By 1817, the town was an important transportation and trading hub in the American Bottom.
The original Cahokia Courthouse became dilapidated by 1901, when it was purchased by a businessman who reconstructed a smaller version of it for the 1904 St. Louis World Fair. After the fair, it was sold again and shipped to Chicago, where it stayed until Cahokians demanded it back. It was shipped back and rebuilt in 1940. In 1938, archaeological work began on the original site. The foundations, footings, and architectural fragments were found, along with domestic artifacts. The Illinois State Museum curates the Cahokia Courthouse Archaeological Collection.