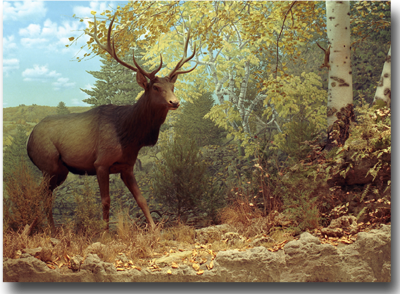 Northwestern Forest - Jo Daviess County, 1673
This scene depicts an early October day in northwestern Illinois. This area has some of the oldest exposed rock formations in Illinois. The bedrock formed about 450 million years ago. Streams and rivers have cut valleys and canyons with spectacular bedrock cliffs. Wapiti, also known as elk, roamed among hardwood forest mixed with pockets of prairie. White and black oak dominate dry areas. Sugar maple, basswood, and red oak grow on the moister sites. White pine and paper birch grow on cool, shaded slopes and cliffs. Exposures of dolomite provide habitat for lichens, mosses, and ferns.
This reconstruction is based on historic records, archaeological evidence, and studies of the geology and ecology of the Wisconsin Driftless Division near Galena.