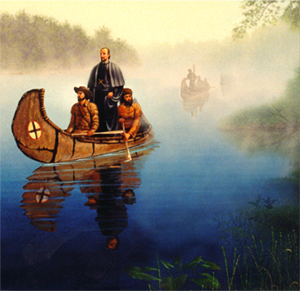 Historic Illinois
The historic period in Illinois began with the explorations of Marquette and Jolliet. In the summer of 1673, Louis Jolliet, a cartographer and fur trader from Quebec, and Jacques Marquette, a French Jesuit priest, left the Straits of Mackinac to explore the Mississippi River. The French had heard about the river and thought it might be the fabled Northwest Passage to the Orient.
Marquette and Jolliet traveled down the Mississippi River in a pair of birch bark canoes as far as present-day Arkansas. With no sign that the river would head west, and knowing they were approaching Spanish territory, they turned around. On their return trip, they took a shortcut up the Illinois River.
The two explorers kept written records of their journey. Jolliet's map and journal were lost in a canoe accident, but Marquette's manuscript survived. It is the earliest known written record of Illinois.
" We have seen nothing like this river that we enter, as regards its fertility of soil, its prairies and woods; its cattle, elk, deer, wildcats, bustards, swans, ducks, parroquets, and even beaver. There are many small lakes and rivers. That on which we sailed is wide, deep, and still, for 65 leagues."
— Jacques Marquette, 1674
Click on the image to read more excerpts from historical accounts.