Some have speculated that the earth goddess cult played a role in validating the power of the elite during the height of Mississippian developments in the American Bottom (Stirling Phase). That is, some archaeologists have suggested that the earth goddess cult, widespread in the Mississippian Period (Emergent Mississippian through Lohmann Phase), was co-opted by the elite in the Stirling Phase as a means to associate the power of the earth goddess with their elite social rule.

However, these earth goddess figurines lack elite symbolism like the cross or forked eye. Proving that a commoner "Earth Goddess" cult was coopted by the elite will be difficult, but these and similar processes typify elites' methods of maintaining social control.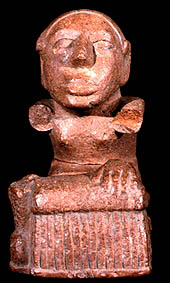 Keller figurine from BBB Motor site.