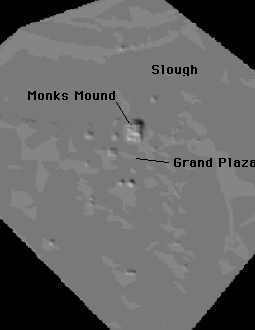 Mounds of earth at Cahokia - obvious evidence of
human modification of the natural environment.
With such a richly textured and colorful floodplain canvas, it is no wonder that Mississippian people chose to heavily exploit its resources. Exploitation of this natural diversity by Mississippians -- whose numbers and concentration into large towns were greater than those of their progenitors -- modified the natural environment in many ways. Fire, land clearing, creation of agricultural fields, land leveling, and mound building all left an indelible mark on the American Bottom.