---
Introduction
---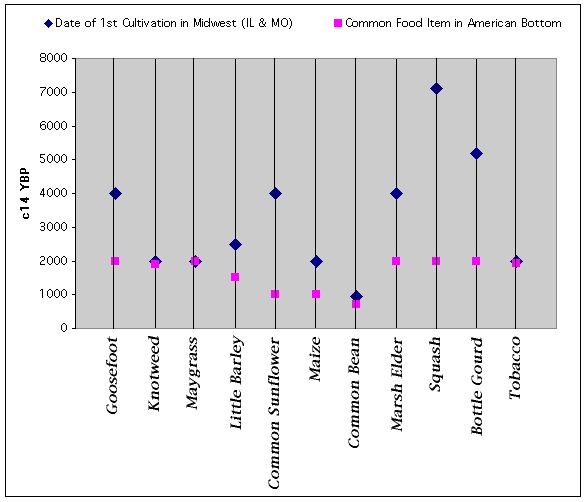 Timeline of domestication of seedy weeds and introduction of maize.
For the first 700 - 800 years after its introduction, maize remained at or just below the level of archaeological visibility. This means that maize was being grown, but was an ancillary food, just one of many seedy plants cultivated by Woodland people. Around A.D. 750 - 850, however, there is a recognizable increase of maize in the diets of American Bottom inhabitants.
Through burning of prairies and forests, Mississippian farmers cleared large swaths of elevated bottomland for maize fields. They dug many large underground storage pits for the surplus maize and other crops produced in their fields and gardens. For some members of society, the diet consisted largely of maize, although for most people it was just one of many other plant and animal foods. Maize acheived such importance that its image was incorporated into religious objects. In short, Mississippian people not only added maize to their food basket -- they apparently came to rely on it.
---