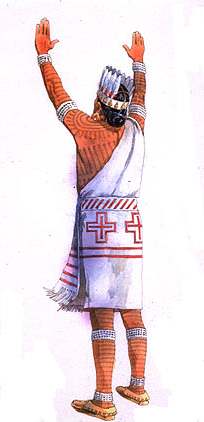 Chiefly symbols (crosses) on a priest-chief's costume.
Discussion of these art forms is further aided if we acknowledge their socio-political function. As is the case for much art in many societies (HDYK-ART), the function and manipulation of some Mississippian objects, icons, and symbols appear to have been largely political in nature serving to validate a prestigious person's and/or corporate group's rank and power. Other forms, icons, and symbols seem to relate to the earth or fertility, and were likely more accessible to a wider Mississippian population (see J.A. Brown: 1985).

Finally, where a piece of art was found and the other artifacts and structures with which it was associated (its context) provide important clues about its meaning. The occurrence of some pieces of art with falcon imagery and symbols with astronomical meaning in elite burials and temple mounds, for example, bears witness to their manipulation by prestigious persons to validate their socio-political and religious status in Mississsippian society. Art from these contexts was intended for use by the most powerful Mississippian leaders and chiefs to offer visible validation of their power by emphasizing their connection with both venerated ancestors and the spirits of nature in the upper and lower worlds. J.A. Brown (1985) has related this political aspect of Mississippian art to an "ancestral shrine cult."