Anna Pottery
Locations of potteries depended on the location of nearby beds of clay. Potteries also needed access to transportation by rail or river to get their supplies and ship their pottery. In southern Illinois, the Kirkpatricks found such near the town of Anna. They established Anna Pottery in 1859. Near Anna were beds of the brown clay that the Kirkpatricks used for their stoneware. There was also a large quarry of kaolin clay, which the company sold to potteries that used this white clay.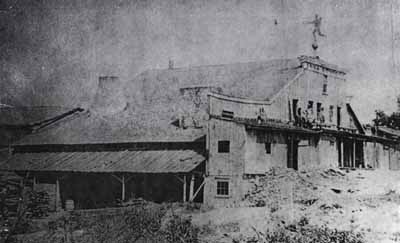 The Anna Pottery as it appeared in 1885, probably little changed from the early days of its operation except for some expansion and the Indian weathervane added the year the photograph was taken. In the Jonesboro Weekly Gazette of 24 November 1866, the pottery was described as a two-story frame building. The basement contained the clay-grinding operations run by horse power, the drying room with hot-air furnace, and two kilns holding, 2000 gallons of ware each ("fired and burnt twice during each week"). In the upper stories were work rooms for forming wares and additional storage space.
The image of the building also appears in Ellen Denker's thesis from the 1970s and has the credit line: Courtesy of Bertha Kirkpatrick. She is listed in the Foreward as living in Anna, Illinois.
In 1860 Anna Pottery employed eleven men and produced "800,000 gallons per year" of pottery (each container was stamped on the side with the number of gallons it could hold). The Anna Pottery was a two-story wood-frame building. The basement contained the clay-grinding equipment powered by horses, a drying room with a hot-air furnace, and two kilns that held up to 2,000 gallons each of stoneware. The upper stories contained storage space and work rooms where pottery was hand formed.
Some of the products made in the pottery were jugs, plates, crocks, pitchers, milk pans, fruit jars, funnels, flower urns, cemetery urns, buckets, fire brick, chimney pots, window sills, arches, roof tiles, stems of tobacco pipes, and drainage pipe. The pottery was also known for its unusual one-of-a-kind pieces of stoneware (snake jugs, cemetery urns). These art pieces reflected ideas and themes of the rural past, temperance, history, and love of nature.
Cornwall and Wallace owned Anna Pottery from 1860-1896. It remained in the Kirkpatrick family until 1900. It closed in 1910, when consumers preferred the more modern and convenient containers of tin and glass.