ILLINOIS STATE MUSEUM
Quilts by Bertha Stenge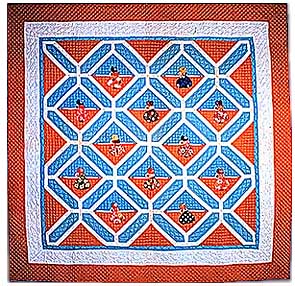 Tangled Garters
ca. 1932
Hand-pieced, appliquéd and quilted cotton


Illinois State Museum Collection, gift of Prudence Fuchsmann
Bertha Stenge put her own spin on the popular quilt fads of her time. Sunbonnet Sue, identified by her big hat hiding her face, evolved from simplified drawings of Kate Greenaway's children drawn by Bertha Corbett about 1900. By 1912, Marie Webster's quilt pattern, Sunbonnet Lassies, appeared in Ladies' Home Journal with suggestions for making it from scraps of girl's dresses. During the 1930s, many variations on the pattern were sold. In this quilt, Stenge chose Sunbonnet Baby from Grandmother's Old Fashioned Quilt Designs, Book 21, published in 1931 by W.L.M. Clark of St. Louis, Missouri. Stenge named her quilt Tangled Garters, probably because the pieced setting surrounding her appliqué blocks resembled the twisting and turning of a tangle of garters (ribbons used to hold up stockings.) The more common name for the setting is Garden Maze, but quilt historian Ruth Finley in her 1929 book discussed the variant name Tangled Garter.
---
RIGHTS TO ALL IMAGES BELONG TO THE ILLINOIS STATE MUSEUM
Contact Janice Tauer Wass for permission to reproduce any materials on this page.
---
| ISM Home | | General Information | | Programs | | Events | | Exhibits | | Collections | | Sites | | Membership |
© Illinois State Museum -- 30-December-98