manierre dawson and the armory show
Read more in: Manierre Dawson - Recognition.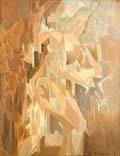 Manierre Dawson was a young artist/architectural engineer who had been establishing a highly personal approach to abstraction in his painting for at least four years before the Armory Show opened in Chicago. Taking a leave of absence from his position at the firm of Holabird and Roche, he traveled to Europe in 1910, viewing the Old Masters and painting along the way. Upon his return to the U.S. through New York in November, he used a family friend's introduction to meet with Arthur B. Davies, who was impressed with his European paintings. Davies remembered the young Chicagoan as the Armory Show came together and invited Dawson to exhibit in the New York presentation. For a variety of reasons, Dawson was unable to supply any paintings with which he felt comfortable and consequently chose not to participate in the New York show.
When the exhibition arrived in Chicago in March of 1913, Dawson was elated, "These are without question the most exciting days of my life," he wrote in his journal. He was so taken with the work that he purchased two paintings: Nu (esquisse) Jeune homme triste dans un train (Peggy Guggenheim Collection, Solomon R. Guggenheim Museum, Venice, Italy) by Marcel Duchamp and, two days later, Return from the Chase (Hackley Art Museum, Muskegon, Michigan) by Amadeo de Souza-Cardoza. Walter Pach, who was in Chicago overseeing the exhibition, had been told by Davies about Dawson's work and visited him at home. Upon viewing Wharf Under Mountain (Norton Museum of Art, Palm Beach, Florida) and, according to Dawson, providing the title, Pach insisted on hanging the painting in the show. Although there are no independent confirmations, Dawson notes in his journal entry of April 4, 1913, "Walter said he had no trouble getting the painting hung."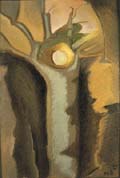 Dawson's exposure to the Armory Show provided the young artist with fresh energy and dedication to his studio. He left Holabird and Roche and began painting with renewed vigor. Davies contacted him the following year and included him in an exhibition entitled "The Fourteen" that he assembled for the Montross Gallery in New York. The show subsequently traveled to the Detroit Museum of Art, the Cincinnati Museum, and the Peabody Institute of Johns Hopkins University in Baltimore. Dawson also worked during 1914 with Dudley Crafts Watson, Director of the Milwaukee Art Society (later the Milwaukee Art Museum), to present an exhibition of European and Midwestern American Modernism. Entitled Paintings and Sculptures in "The Modern Spirit", the exhibition provided Dawson with his only notice in print while he was alive. There would be a 1921 solo exhibition in Milwaukee and one more in Grand Rapids after his re-discovery in 1966.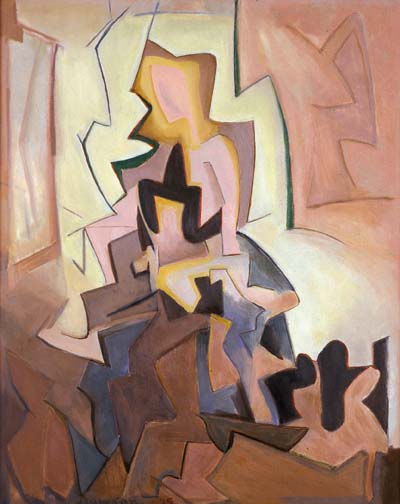 For more information on the Armory Show and its impact on Chicago see:
Milton W. Brown; The Story of the Armory Show; Joseph H. Hirshorn Foundation; New York, NY; 1963
Sue Ann Prince, et al; The Old Guard and the Avant Garde: Modernism in Chicago 1910-1940; University of Chicago Press; Chicago, IL;1990
Hollis Taggart; Manierre Dawson: American Pioneer of Abstract Art; Hollis Taggart Galleries; New York, NY; 1999
Read more in: Manierre Dawson - Recognition.