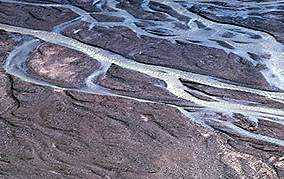 Braided channel on outwash plain of a modern glacier.
As glacial retreat continued, river levels lowered, channels erroded and became incised into older deposits, and new floodplains were formed. This left old terraces (floodplains of older, more elevated rivers) perched at higher elevations along valley walls.
At times, water levels were so high that icebergs broken from the glacier terminus to the north (in central Illinois, Iowa, and Wisconsin) floated up Mississippi tributaries depositing exotic sediments scraped by the glacier from land far to the north. At times so great was the volume of water being carried, that the Mississippi River blocked the flow of tributaries causing even major rivers like the Illinois to flow upstream!
Small, sediment-rich iceberg floating near glacial terminus.