How Steamboats developed...
Robert Fulton and the Clermont
Robert Fulton's Clermont
Robert Fulton (1765-1815) took what others had already done with steam power and made it into a successful commercial venture. Fulton made steamboats a reliable means of water transportation. Born November 14, 1765 in Pennsylvania, Fulton developed his artistic talents as a youth. He went to Philadelphia at age 17 and took up an apprenticeship with a jeweler. By the age of 21 he was able to provide for his widowed mother and his sisters and still have enough money to move to England where he studied with a well regarded painter, Benjamin West. Once established Fulton turned his creativity to inventing. He designed proposals for canal locks, rope making machines and, in 1797 for a submarine.
A cross section drawn by Robert Fulton of his submersible the Nautilus. From Library of Congress, Robert Fulton (1765-1815). Interior Chambers for Crew, Ballast, and Submarine Bombs. Graphite, ink and watercolor on paper, 180.
He offered the French government his services for the development of a military submarine but was rejected. In 1800, the undeterred Fulton launched the Nautilus using his own resources. Shortly thereafter he met up with the American minister to France, Robert Livingston and they collaborated on developing a reliable steamboat design to take advantage of Livingston's twenty year steamboat navigation monopoly that he secured from New York State.
The Fulton-Livingston Collaboration
Robert Livingston (1746-1813) was born in Clermont, New York to a wealthy family. Livingston studied law as a young man and passed the bar in 1770. He was an active participant in the Continental Congress at Philadelphia, serving on committees including finance, foreign affairs, and judicial affairs. He served on the committee that drafted the Declaration of Independence. In 1777 Livingston helped draft New York's constitution and was the state's first chancellor. The Articles of Confederation created the Department of Foreign Affairs and Livingston was appointed its secretary where he served with distinction at the Paris Peace Conference during 1782-1783. Livingston administered the oath of office to George Washington on April 30, 1789. President Thomas Jefferson appointed him as minister to France where he negotiated the 1803 Louisiana Purchase. It was in Paris that Livingston made the acquaintance of Fulton and they began their steamboat collaboration. The men named their first boat Clermont after Livingston's birthplace and ancestral home.
Branching Out...
To follow the journey of the New Orleans on its journey along the Ohio and Mississippi Rivers, go to the American Bottom, East St. Louis Environment historical narratives.
Robert Livingston Statue, Bronze by Erastus Dow Statue of Robert Fulton, Marble by Howard Roberts Palmer. Given in 1889; located in Statuary Hall, United States Capitol.

Soon after Fulton successfully sailed his steamer, the Clermont, up the Hudson River in 1807 he began to consider using steamboats on the Mississippi. He and Livingston were able to secure an eighteen year monopoly from the territory of Orleans (soon to become Louisiana in 1812) that would only allow their steamboats in the mouth of the Mississippi.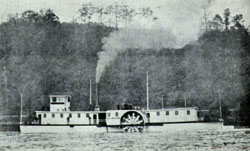 This is a 1911 replica of the original New Orleans built to celebrate the first steamboat down the Ohio and Mississippi.
The New Orleans
Steamboat technology was already more than twenty years old, but no one had yet incorporated it into a successful commercial venture. The Fulton-Livingston collaboration would be the first. In 1809 they sent Nicholas Roosevelt and his wife Lydia to explore the Ohio and Mississippi Rivers for the possible use of steamboats. After determining that it was feasible Fulton made plans for the construction of a steamboat that would be the first to venture onto these western rivers. The boat, the New Orleans, was 148 feet long, 32 feet wide, with a twelve foot draft. Fulton built it in Pittsburgh during 1810-1811.