The Illinois side of the River
This diagram shows the course of the Mississippi River around 1800, indicated by the striped area. The shaded area represents the region around Piggott's Ferry that expanded during the first twenty years of the nineteenth century. The underlying map is of present-day East St. Louis and shows the major highway system surrounding the Eads Bridge.
After James Piggott died in 1799, Piggott's Ferry remained in business. The growth of St. Louis in the early nineteenth century encouraged further development of the Illinois side of the Mississippi River through the increased demand for transportation across the river. Soon the Piggott family had a number of neighbors and their business faced competition from other entrepreneurs interested in capturing some of the ferry business.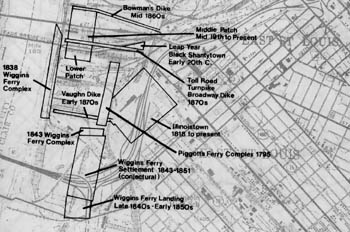 Map showing historic locations of settlement in East St. Louis. From Gateway to the Past Illinois Department of Transportation, 1982.