Play Museum Teacher Kits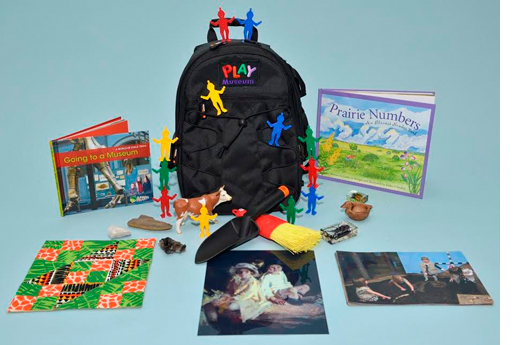 For More Information Contact:
Kara Fedje 217.782.6044
play@museum.state.il.us
www.museum.state.il.us

PRESS RELEASE: Illinois State Museum, Springfield, August 27, 2014

ANNOUNCING: A new, exciting resource for teachers from the Illinois State Museum!
Thanks to a grant from the Susan Cook House Educational Trust, The Illinois State Museum is now able to offer Play Museum Outreach Kits. The easy-to-use, light weight kits were created to help educators and their students get the most out of a field trip visit to the Mary Ann MacLean Play Museum. Each kit includes hands-on materials (such as fossils, quilts, and toy farm animals) that represent the Play Museum's activities and child-friendly collections. The kit also includes large, color photographs of the Play Museum and suggested pre and post visit activities. The Illinois State Museum hopes to enhance a student's experience of learning through play in the most convenient way for educators!

WHEN:
Now!

WHAT:
Play Museum Teacher Kits
FREE with Reservation

WHERE:
Illinois State Museum
502 S. Spring Street
Springfield, IL 62706

The Mary Ann MacLean Play Museum, located in the lower level of the Illinois State Museum, is an inspirational educational setting for children in grades preK-4 where visitors can learn through play about the Illinois State Museum and its collections including art, people, and nature. During their Play Museum visit, children can load a jeep for an expedition, dig for Ice Age fossils, create and display artwork, play farm with barnyard animals, inspect artifacts from the Play Museum collection up close and personal, and much more!

Reserve your kits today! There is no charge to borrow a Play Museum Outreach Kit, however a refundable damage deposit is required. The kits are available for a two-week lending period and are picked up and returned to the Illinois State Museum. For more information or to reserve a kit, please contact Kara Fedje at play@museum.state.il.us or (217) 782-6044.

To reserve the Play Museum for your group, please call the Illinois State Museum at (217) 782-7011. A reservation is 30 minutes. Without a reservation, Play Museum time is available on a first-come first-served basis. Play Museum hours are Monday-Saturday 9:30AM - 4:00PM and Sunday 1:00-5:00PM. The Play Museum is free and open to the public.

The Illinois State Museum inspires discovery and caring about Illinois' cultural and natural resources and heritage. The Museum's extensive collections and research activities provide the foundation for exhibitions and public programs that tell the story of the land, life, people, and art of Illinois. Admission is free. Parking is available nearby and the building is ADA accessible.



Thursday, August 28, 2014

Back to News & Press.


Illinois State Museum
Founded 1877
The Illinois State Museum promotes discovery, learning, and an appreciation of Illinois' natural, cultural, and artistic heritage.
General Information: (217)782-7386
Director's Office: (217)782-7011
Interim Museum Director: Michael Wiant
Press Contact: michael.wiant@illinois.gov