Meet Photographer Jeff Crisman at Illinois State Museum Lockport Gallery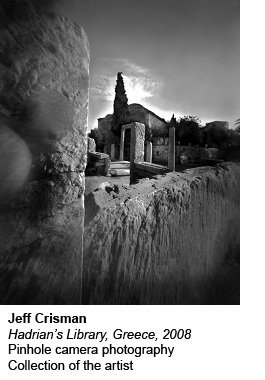 LOCKPORT, IL— The Sunday Series of programs continues at the Illinois State Museum Lockport Gallery on Sunday, September 29, with a presentation by photographer Jeff Crisman. Crisman's pinhole camera photographs capturing ancient ruins are on display in the current exhibition Fragile Relations: Art, Nature, and Environment. This is a terrific opportunity to hear directly from the artist about his processes and ask questions about his work. The talk will begin at 2:00 pm and last approximately one hour. Reservations are not required, though seating is limited. Admission is free. Museum opens at noon on Sundays.

Joliet-based Jeff Crisman has been a photographer for over 30 years. His work ranges from long-term projects (like his tattoo documentation project) to those with a focus on our environments, such as the pinhole camera photographs currently on display at ISM Lockport. Crisman taught photography at University of Illinois at Chicago and Chicago State University; he is currently teaching at Aurora University and Harrington College of Design.

Fragile Relations: Art, Nature and Environment highlights the work of fourteen Illinois artists who are inspired by nature and the environment and show diverse ways of perceiving and experiencing the world. Further, through their work these artists delve into both the internal—or personal—and the external—or shared—environments. Through a process of reclaiming, Mary Ellen Croteau (Chicago), Carole Komarek (Arlington Heights), Michele Stutts (Chicago), and Toby Zallman (Chicago) transform discarded materials into beautiful works of art. Denise Bellezzo (Naperville), Barbara Cooper (Chicago), and Donna Hapac (Chicago) incorporate natural materials into work that reflect the balances, transformations, and humor in nature. Photographers Xavier Nuez (Chicago), Jeff Crisman (Joliet), Jean Sousa (Chicago), Nora Lloyd (Chicago), Marjorie David (Chicago), and Mayra Pimentel (Chicago) explore the world around us—large and small, real and imaginary—revealing the junctures between humans and nature. Alex Lopez's (Murphysboro) mixed media video installations invite the audience to experience an environment that is both beautiful and slightly disturbing. This exhibition is organized by Jane Stevens, Associate Curator/Gallery Administrator, Illinois State Museum Chicago. Exhibition runs through October 25, 2013. Please call ISM Lockport or visit our website for information on related events.

The Illinois State Museum Lockport Gallery is located on the first floor of the historic Norton Building at 201 West 10th Street in Lockport, Illinois, and is fully accessible to all physically challenged individuals. Museum hours are noon to 5:00 pm on Sunday, 9:00 am to 5:00 pm, Monday through Friday. Museum is closed Saturdays and State Holidays. Admission is free. For information on exhibitions and related programs, becoming a member of the Friends of the Lockport Gallery, directions, or to schedule a group tour of ten or more, please visit the museum online at http://www.museum.state.il.us/ismsites/lockport/ or call (815) 838-7400. The Illinois State Museum Lockport Gallery is part of the Illinois State Museum system, including sites in Springfield, Rend Lake, Chicago, and Lewistown.

Monday, September 09, 2013

Back to News & Press.


Illinois State Museum
Founded 1877
The Illinois State Museum promotes discovery, learning, and an appreciation of Illinois' natural, cultural, and artistic heritage.
General Information: (217)782-7386
Director's Office: (217)782-7011
Interim Museum Director: Michael Wiant
Press Contact: michael.wiant@illinois.gov