Illinois State Museum Illuminating "Luminous Ground" Series Meet the Octogenarian Hipster Artist: Leopold Segedin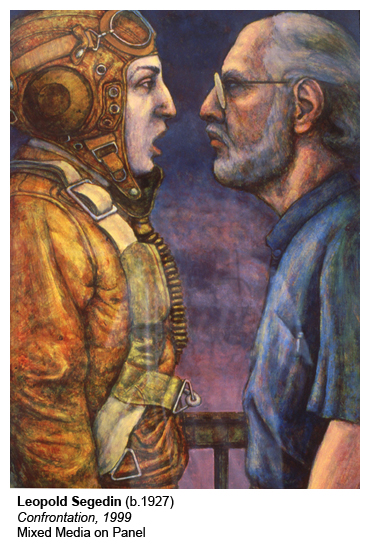 SPRINGFIELD – The Illinois State Museum will present a "Meet the Artist" program at 6:00 p.m. on Thursday, October 25. Chicago artist Leopold Segedin, one of the octogenarian artists from the Luminous Ground: Artists with Histories exhibition, will talk about his work currently on display, and show examples of other work. This event is free and open to the public.

Leopold Segedin is a figurative and realist painter whose narrative work contains dynamic space and color relationships. His art speaks of the human condition: his subjects vary from the Nazi Holocaust to archetypal images from the Old Testament and Judaic traditions to the consequences of warfare, military aggression and imperialism. In his recent work he travels back to the west-side Chicago neighborhood of his youth. Scenes replete with el trains, store-fronted streets, and young boys in leather ace pilot hats are infused with and transformed by memory.


Leopold Segedin was born in Chicago and received his BA (1948) and MA (1950) from the University of Illinois in Champaign-Urbana. He has taught at the University of Illinois, U.S. Army Engineers (drafting), Northeastern Illinois University, Bernard Horwich Jewish Community College and the Evanston Art Center. He is Art Professor Emeritus from Northeastern Illinois University where he retired in 1987 after thirty-two years of teaching. For more information on the artist go to: www.leopoldsegedin.com/

This program is funded in part by a Community Arts Access Grant from the Springfield Area Arts Council.

CONTACT: Jim Zimmer, Director for Art & History, 217-782-7440, jzimmer@museum.state.il.us, TTY: 217-782-9175

Image available: https://docs.google.com/folder/d/0BwmWGMu2OCzyV05NcEpYSVpXR00/edit

The Illinois State Museum promotes discovery, learning, and an appreciation of Illinois' natural, cultural, and artistic heritage. The Museum's extensive collections and research activities provide the foundation for exhibitions and public programs that tell the story of the land, life, people, and art of Illinois. The Illinois State Museum is located at 502 S. Spring St. (on the corner of Spring and Edwards Streets) in Springfield and is open from 8:30 - 5:00 Monday through Saturday and from 12:00 - 5:00 on Sunday. Admission is free. Parking is available nearby and the building is ADA accessible.



Tuesday, October 09, 2012

Back to News & Press.


Illinois State Museum
Founded 1877
The Illinois State Museum promotes discovery, learning, and an appreciation of Illinois' natural, cultural, and artistic heritage.
General Information: (217)782-7386
Director's Office: (217)782-7011
Interim Museum Director: Michael Wiant
Press Contact: michael.wiant@illinois.gov