General Grant
Frank Richards carved a series of patriotic figures, including United States presidents Abraham Lincoln, William McKinley, and George Washington. Each figure took him about three months to carve, working evenings and winters when he did not have lots of farming work to do.

Richards probably used prints of photographs or etchings of the presidents to model his figures, which he also painted. General Ulysses S. Grant, a native of Illinois and leader of the Union Army, is carved sitting on his horse.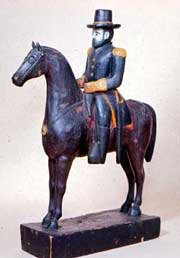 This carving is an example of Folk Art, art made by a person who has never had any formal art training. The figure of the general is a little stiff, the legs are short for the rest of his body, and the horse's shape still has the feel of a single, large block of wood. However, the figure is unmistakably General Grant and has a style unique to Richards. Folk art woodcarving is popular and highly prized because there are not many examples and each example is unique.