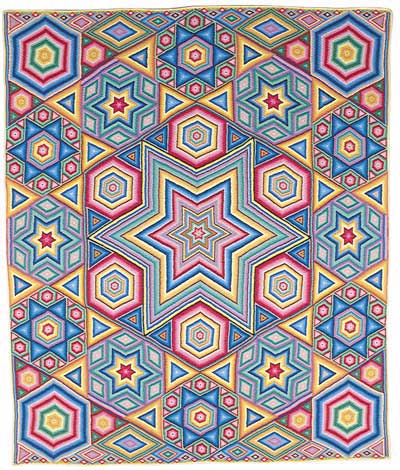 Albert Small, Ottawa, Illinois
Mosaic, 1941-44
cotton quilt, 86 by 95 inches
Illinois State Museum collection
Gift of William A. Small and Evelyn Small Carter (1992.51.3)
Albert Small chose the hexagon shape to make his three quilt tops. He designed arrangements of color to make his patterns. The whole quilt-top looks similar to a Persian tile pattern or carpet design. He worked on Mosaic for four years, sewing four hours a day, six days a week. The quilt contains a total of 123,200 hexagons, each 1/4 inch in diameter. There are 15.08 hexagons in each square inch of the quilt. Six of these hexagons fit under a dime.
Which larger geometric shapes can be formed using hexagon units?
Note: This quilt was recently chosen as one of the 100 best quilts of the twentieth century by a panel of experts from The Alliance for American Quilts, The American Quilt Study Group, The International Quilt Association, and The National Quilting Association, four major non-profit quilting organizations.