Emil Armin (1883-1971)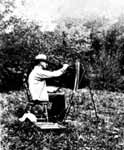 Emil Armin grew up in Romania. Emil's father made cut-out-paper figures and molded figures and decorations from wax. His grandfather was a maker of scrolls for the local temple. Following in their artistic tradition, Emil carved wooden canes and ornaments as a child. In school, he sketched during class and the teacher confiscated his drawings. The teacher returned the drawings at the end of the year because she thought he had talent. Emil was orphaned at age ten, and was brought up by his brothers and sisters.

Emil Armin arrived in Chicago from Romania in 1905 at the age of 21. To support himself, he worked in shops during the daytime, and went to art classes at night. He graduated from the School of the Art Institute of Chicago in 1920. His Chicago exhibits in the 1920s include the No-jury Society, Cor Ardens, Neo-Arlimusc, and the Chicago Society of Artists. In the 1930s he entered the Grant Park Art Fair, and worked as an easel painter for the Works Progress Administration (WPA).

Emil Armin painted his personal experience and feelings about modern life in urban Chicago. Sometimes his personal religious experience were the subject of his paintings and wood block prints. He made many images celebrating Jewish ritual and biblical themes.

Chicago, being noisy and full of movement, was a perfect subject for Armin's painting style that used strong brush strokes. Armin's type of modernism was perhaps influenced by styles of Post-Expressionists Paul Gauguin and André Derain and German Expressionists Emil Nolde, Max Pechstein, and Erich Heckel.

Armin exhibited regionally and nationally until he died at age 88. On April 17, 1980, 1926 Samuel Putman, Chicago Evening Post art critic and supporter of modern art, described Armin as "perhaps the most finely sensitized artist in Chicago . . . with a soul of a peasant and poet and the mind of a philosopher."