Public Events -- Illinois State Museum, Springfield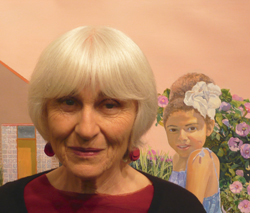 Figuratively Speaking Series: Judith Raphael, painter
Location: Illinois State Museum, Springfield, Springfield
Date: Thursday, November 14, 2013, 6:30 PM - 7:30 PM



Raphael will discuss her use of the figure over her career and touch on other artists she admires who are using the figure in contemporary art.

This series will present three one-hour gallery discussions on contemporary use of the human form in art with three top Illinois artists from the Figurism exhibition. These artists will discuss the use of the human figure with examples from the exhibition as well as their larger body of work.

Discussion will be moderated by ISM Curator of Art, Robert Sill and will take place in the second floor gallery. The exhibition will be open for viewing until 8:15 pm following each program.

Programs will be held on Thursdays, October 10, November 14, and December 12 at 6:30 p.m.
Free and open to the public

For more events at Illinois State Museum, Springfield.