Public Events -- ISM Lockport Gallery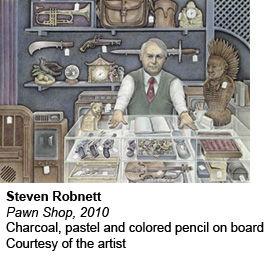 Focus On Steven Robnett
Location: ISM Lockport Gallery, Lockport
Date: Sunday, July 15, 2012, 2:00 PM - 3:00 PM



Discover the precisely executed drawings and paintings of Elgin artist Steven Robnett when ISMLG Director Jim Zimmer provides an overview of how the artist uses human figures as narrative images that metaphorically expose the human condition.

This ISMLG Talk & Tour Event is part of the free Sunday Series for the exhibition Focus 4, presented during ISM Lockport Gallery's 25th Anniversary year. Admission is free. Registration is not required; seating is limited.

For more events at ISM Lockport Gallery.