Genus Plethobasus
Class Bivalvia : Subclass Paleoheterodonta : Genus Plethobasus
Plethobasus cooperianus (Orange-foot Pimpleback)
Orange-foot pimpleback mussels have round shells with pustules. The name comes from the animal's orange foot. The shell is thick, light brown to dark brown, depending on size (up to 4 inches).
Orange-foot pimplebacks live in large rivers in gravel or sand mixed with gravel. In Illinois, they are found in the far south, along the Ohio River.
Conservation status: Federally endangered. Endangered in Illinois (1999).
Taxonomy: Order Unionoida, Superfamily Uniononidea, Family Unionidae, Subfamily Ambleminae.
Collection of the Illinois State Museum, photographed by Karen Little
ISM Accession #: 680317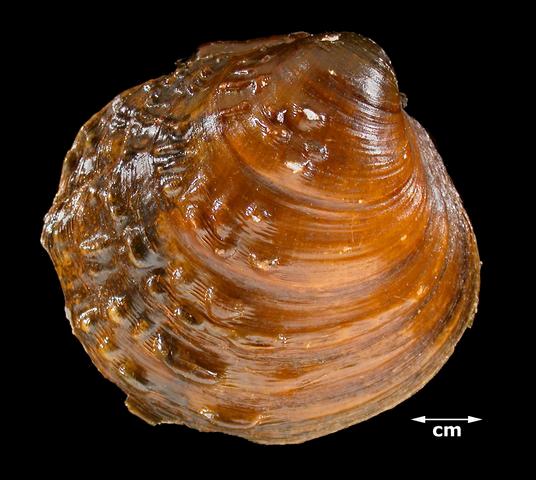 Class Bivalvia : Subclass Paleoheterodonta : Genus Plethobasus