Genus Dreissena
Class Bivalvia : Subclass Heterodonta : Genus Dreissena
Dreissena polymorpha (Zebra)
Zebra mussels are small (length to 1.5 inches), with triangular, elongated shells. There are cream and brown bands on the outer surface.
Zebra mussels live in lakes and streams of all sizes. They attach themselves to hard surfaces, including rocks and other mussel shells by byssal threads (gluelike fibers).
Conservation status:They were introduced into the Great Lakes from eastern Europe in the 1980s and are spreading throughout the country.
Taxonomy: Order Veneroida, Superfamily Dreissenoidea, Family Dreissenidae.
Collection of the Illinois State Museum, photographed by Robert Warren
ISM Accession #: none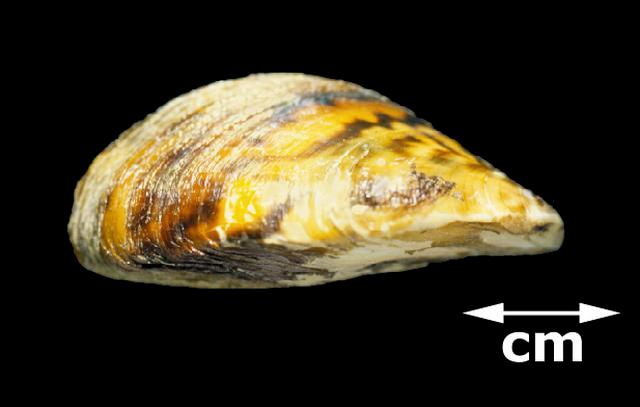 Class Bivalvia : Subclass Heterodonta : Genus Dreissena