Olive (Oleaceae)
ISM Herbarium : Trees : Olive (Oleaceae)
Fraxinus quadrangulata (Blue Ash)
Blue Ash is a narrow tree that grows to 70 feet on dry rocky slopes and in moist valleysin the central midwest from eastern Oklahoma to northern Illinois, throught Indiana, western Ohio, south to central Tennessee, and along the east coast from West Virginia to North Carolina.
The leaves are oppositely compound and 8-12 inches long with seven to eleven long-pointed, lanceolate, yellow-green leaflets with saw-toothed margins. The gray bark has shaggy plates. Purple flowers are tiny in clusters. Fuits, (shown here), are 1 1/4" to 2" long winged keys that hang in clusters.
Collection of the Illinois State Museum
ISM Herbarium Sheet #: 87567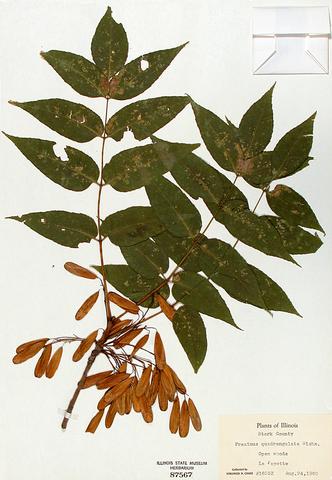 ISM Herbarium : Trees : Olive (Oleaceae)