This is a demonstration of the ISM WPA image gallery
---
Prints
Chicago Towers
Todros Geller (1889 - 1949)
woodcut on paper, 1937
10 x 8 inches

Todros Geller immigrated to Chicago from Vinnitza, Ukraine in 1918. His art training was at the School of the Art Institute of Chicago. He became one of the leading artists of Chicago. Geller was a master of the print, winning several prizes, exhibiting his work widely, and having his work collected by museums such as the Metropolitan and the Whitney. He taught art at the Jewish People's Insitute of Chicago and in private classes.

This image of Chicago's skyscrapers shows the visual strength of the large black areas, the bold textures of a woodcut, and the use of a low horizon line.
Collection of the Illinois State Museum
photograph by Gary Andrashko
ISM Accession #: 1983.61.130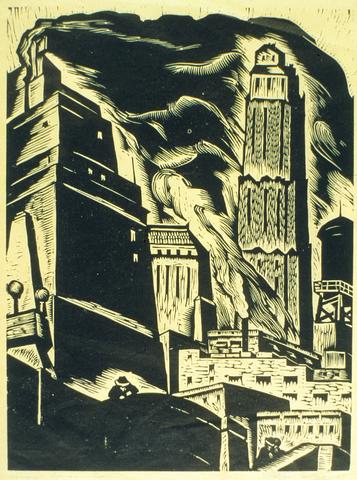 First | Previous | Next | Last
---