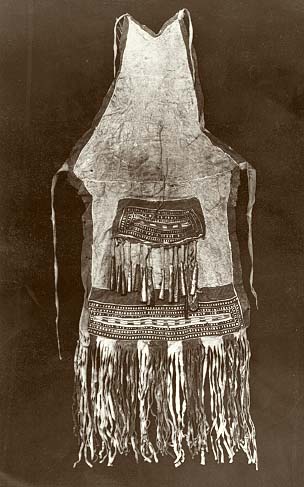 Image by the Russian Museum of Ethnography
Sewn from suede of a wild reindeer, the apron symbolized the mother-beastthe shaman's ancestor. In the central part of the belly and on the bottom there are rectangular bands embroidered with hairs from the beards of reindeer and decorated with a striped design. Attached to the upper and lower bands are tubular metal pendants, which symbolize the "voices" of spirits. The bottom of the apron is decorated with dense fringe representative of a bird.
Even.
Primorsky region, Anadyr area, late nineteenth and early twentieth centuries.
Suede of reindeer, iron, leather, hair from the beards of reindeer.
Length 102 cm, width 44 cm.
Coll. No. 2245-304.