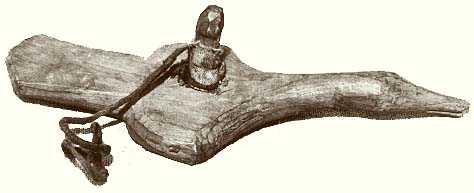 Image by the Russian Museum of Ethnography
It is the image of a cuckoo bird with a figurine of a man on the back. During large funeral meals, the cuckoo, according to the ideas of the Negidal, ushered the soul of the shaman to the world of the dead to help send the soul of the deceased there.
Negidal.
Far East, Udsky District, mouth of the Amgun River, late nineteenth and early twentieth centuries.
Wood, cloth, leather.
Length 21 cm.
Coll. No. 2566-49.