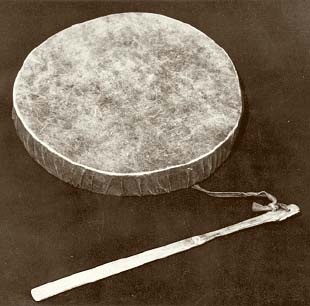 Image by the Russian Museum of Ethnography
Used for teaching a child shamanic skills, the drum was thought to contain the soul of the mother. The animal, in the image of a female moose, symbolized the spirit-ancestor of the shaman and his or her vital forces.
Even.
Far East, Primorsky region, Anadyr area, early twentieth century.
Wood, reindeer or moose suede.
Diameter 27 cm.
Coll. No. 2245-158.