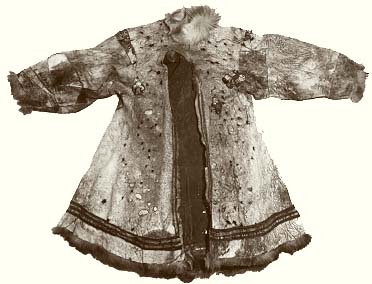 Image by the Russian Museum of Ethnography
The coat has the cut of a man's garmenta wide shirt with a cut in front. Over the breast there are doll figurines representing: 1) a reindeer breeder/herdsman with a figurine (his assistant and partner during lifetime) made from a knot and a stone; 2) an Evenk woman; and 3) Koryak and Chukchi women. Transvestite shamans were regarded as the most powerful.
Koryak.
Kamchatka region, Olyutorsky region, village of Achaivayam, mid-nineteenth century (manufacture),
1980s (collection).
Hide of a reindeer, dog, wool and hide of ringed seal, seed beads, wood, stone.
Length 77 cm, span of sleeves 110 cm.
Coll. No. 10072-72.